The Suburban Collection Showplace is southeastern Michigan's premier exposition, conference, and banquet center. Each year 1.8 million people enter through a grand atrium style entrance to over 25,000 square feet of pre-function space. The exposition space has a total of 214,000 square feet of multipurpose exhibit floor. The space is dividable into three exposition halls, and features 5 additional meeting rooms. The facility was carefully designed to meet all event needs. There are a total of only 45 columns throughout the entire exposition space. Each hall boasts a 28' ceiling with 24' true clear throughout, dedicated loading docks, 480 120/280 three phase power, and both wired and wireless internet connectivity.

The elegantly appointed Diamond Banquet and Conference Center welcomes all guests through a 25,000 square foot pre-function lobby space and has two Ballrooms - the 20,000 square foot Diamond Ballroom can accommodate up to 1,300 people at a banquet style setting and the Platinum Ballroom can host up to 250 people at a banquet style setting. The Diamond and Platinum Ballroom ceilings are a soaring 18' and has been structurally designed for hanging light trusses and audio-visual equipment platforms. The entire Diamond Banquet and Conference Center has 28 meeting rooms available for smaller gatherings or break-out space to support any size meeting.

The Diamond Center at Suburban Collection Showplace will enhance your meetings with the highest quality food and beverage available through Epoch Events Catering. Epoch Events Catering is a full service catering company serving Metropolitan Detroit, for corporate, civic, cultural and charitable events. They have a reputation for outstanding cuisine, event planning expertise, impeccable service and unparalleled attention to detail.

The Suburban Collection Showplace also has the attached Hyatt Place Hotel to accommodate all of your staff and attendee housing needs. We have 126 suite style non-smoking rooms which include Hyatt's signature Grand Beds, cozy corners with sleeper sofas, Mini-Refrigerators, complimentary Wi-Fi, 42" flat-panel HDTV featuring HD channels, sports packages & on-demand movies, games & music, computer data port, coffee maker/tea maker, AM/FM alarm clock radio with MP3 connectivity, large desk area, telephone with voicemail, hair dryer, iron/ironing board, and luxury skin and hair care amenities from KenetMD .

This fall, the Suburban Collection Showplace opens our new EVENTS CENTER, including 98,000 square feet of column-free event space and two new ballrooms. The new addition also includes 14 meeting and banquet rooms, including a 23,000-square-foot second-story ballroom overlooking the
new exposition space, and 16,000 square feet of upper- and lower-level prefunction space. The new Event Center is the perfect fit to bring trade shows, exhibitions, entertainment events, athletic events, and corporate events with up to 8,000 attendees all under one roof.

Vendor Showcase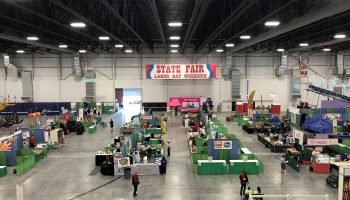 Brand new expansion to add almost 200,000 square feet of new column-free space onto existing expo center facility.

Suburban Collection Showplace is Michigan's premier exposition, conference, and banquet center. Including our brand new EVENTS CENTER, our facility features 400,000 square feet of exhibit floor space including nearly 100,000 square feet of column-free exhibition space, four divisible ballrooms, beautiful pre-function spaces and several individual breakout rooms.

Contact us at: 248-348-5600 read more